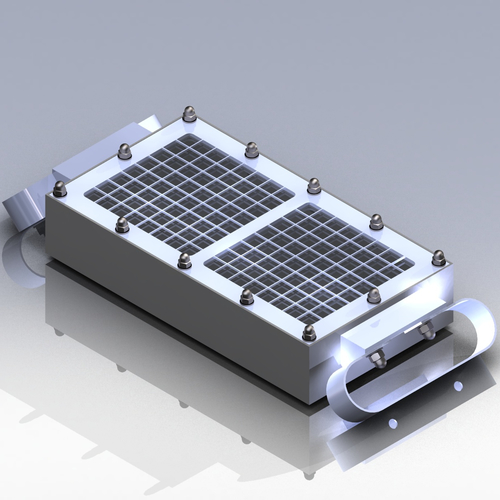 Product Description
Product Description
This device makes natural conviction of hydrogen-oxygen gas which get rid of hydrogen without pan or blower. Hydrogen-Catalyst reaction produces natural convection by temperature gab. Using natural convection, Hydrogen get into the Submarine H2 eliminator.
Product Features
[Performance]
Specification
[Size]
- Square : 137 x 137 x 50/35cpsi (Cell per square inch) with a Steel Cartridge
- Square : 150 x 150 x 50/35cpsi (Cell per square inch) with a Steel Cartridge
Product Use
[Application]
- Submarines
- Nuclear Power Plants
[Reference]
- Ceracomb has supplied Hydrogen removal devices to 4 submarines of Indonesia.
- Delivered and contracted with the Ministry of National Defense for JANGBOGO III (60 devices - 3 submarines)
Company Profile
Ceracomb Co., Ltd.
Ceracomb Co., Ltd. has been producing and supplying ceramic honeycombs using ceramics extrusion molding technology. We have been
developing and supplying catalytic products for industrial hazardous gas eliminating, automobile exhaust gas purification, and filters for reducing soot. Moreover, the automobile particulate matter reduction device developed based on Ceracombs honeycomb and catalytic technology, is contributing greatly to the improvement of the fine dust / atmospheric environment which is becoming an issue in the 21st century.
Website : http://ceracomb.co.kr/english/
Enter Buying Requirement Details
Other Products in 'Machinery, Industrial Parts & Tools' category