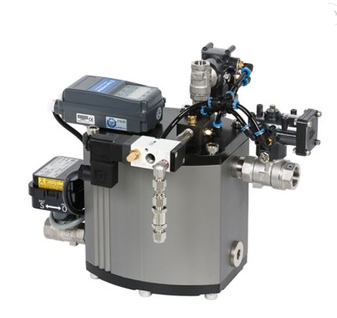 Trade Information
Incheon or Busan, South Korea

Telegraphic Transfer (T/T)

Export Standard Packing
Product Description
Detailed Images
Product Description
DRAINMASTER V is used for effective discharge of condensate under extremely low pressure such as in a vacuum
Working pressure 0.1bar - 1.8bar(abs)
Do not use this if exceeding the working pressure, for it can affect the sealing.

Product Usage
DRAIN MASTER V needs clean air or gas between 4 bar and 8 bar for discharge of condensate, and control air, residual air, gas etc. within the housing may leak into the vacuum system. Thus, it should be applied to a system in which such amount of air or gas cause no problem (e.g. formation of explosive gas) in terms of technologies, production processes, and safety.
In general, DRAIN MASTER V is connected to the condensate lead-in line and requires installation of a balance(equal) air line if a large quantity of condensate is generated.

Product Features
The level sensor within the housing detects the level of condensate, and the condensate lead-in line is blocked and pressure is formed in the housing if it reaches the top dead point by supplying control air or gas via opening of a solenoid valve . The pressure formed within the housing discharges condensate when the motorized ball valve is operated. After condensate is completely discharged, the solenoid valve blocks control air or gas to allow inflow of condensate.

Product Installation
A regulator should be installed to maintain pressure for discharge of condensate between 4 bar and 8 bar.
Discharge of condensate is impossible if the pressure is below 4 bar or the valve remains opened or the valve for the vacuum system remains closed if above 8 bar.
Notice! A small amount of control air is discharged into the air when a valve is opened.
A small amount of control air or gas (nearly 1 liter) is discharged into the air when a valve is opened. If explosive or hazardous gas is used for controlling, the pipe for the gas should be connected to a gas-collection tank.

Product Model
Company Information
PEOPLE oriented technology,

NATURE friendly company.

Technology to the first person. To think of the environment.

We have been worked for efficient treatment of condensation water generated in Air Compressor System. We are producing Auto drain trap that is an economical and reliable condensate discharger, Oil-water separator that is processing unit for condensate contaminated by oil with advanced technique and know-how.

However, energy and environment are giving big influence in enterprise activity in 21th century industrial field, and it is considered that frugality of expensive compressed air and processing for contaminated condensate are helpful to solve these troubleshooting Forward, we will do our best to answer customer's cheering by developing product helpful for enterprise activity.

Contact Us
Company Name : EnE System Co., Ltd.
Website : http://www.enesystem.com
Tel : 070-4027-3673
Enter Buying Requirement Details
Other Products in 'Machinery, Industrial Parts & Tools' category