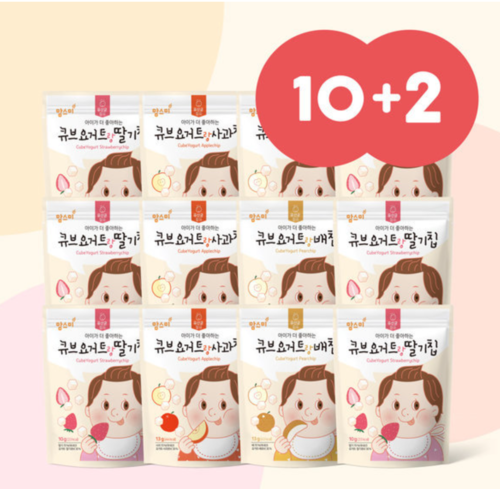 Momsmi Cube Yogurt Fruit Chips Price And Quantity
Product Description
Momsmi Cube Yogurt Fruit Chips 10 +2
Distinction By combining 70% of fruits raised in clean Mt. Jiri and 30% of cube yogurt, the products make it possible for infants to intake fruit and yogurt at one time. 2. Raw Materials Freeze-drying domestic fruits to keep the tastes, shapes, scents and nutrients, Momsmi combine cube yogurt made from domestic milk and selected lactobacillus for infants' intestinal health.
Contain Lactobacillus Streptococcus thermophilus, Lactobacillus acidophilus, Bifidobacterium animalis ssp. lactis
Safety Without adding any chemical additive like Natrium, synthetic sweetners and preservatives, Momsmi has decreased air exposure time through the first introducing of the automated packing system and slowed down the speed of acidification of rice snacks by using opaque wrapping papers using PP materials. Through the establishment of Smart Factory Solution, Momsmi secured the safety of the products by blocking the entrance of foreign materials and through the real-time monitoring from manufacturing to release of the products.
Nutrients
I-Cube Yogurt & Pear Chip
Total Volume 13g

Calorie 43kcal

Natrium

0mg

0%

Fat

08g

0%

Carbohydrate

10g

3%

Trans Fat

0g

0%

Sugars

6g

6%

Saturated Fat

0g

0%

Cholestrol

0g

0%

Protein

0g

1%
II- Cube Yogurt & Apple Chip
Total Volume 13g

Calorie 44kcal

Natrium

0mg

0%

Fat

07g

0%

Carbohydrate

11g

3%

Trans Fat

0g

0%

Sugars

8g

8%

Saturated Fat

0g

0%

Cholestrol

0g

0%

Protein

0g

0%
III- Cube Yogurt & Strawberry Chip
Total Volume 25g

Calorie 78kcal

Natrium

0mg

0%

Fat

0g

0%

Carbohydrate

7g

2%

Trans Fat

0g

0%

Sugars

5g

5%

Saturated Fat

0g

0%

Cholestrol

0g

0%

Protein

1g

1%
Enter Buying Requirement Details
Other Products in 'Agriculture & Food' category