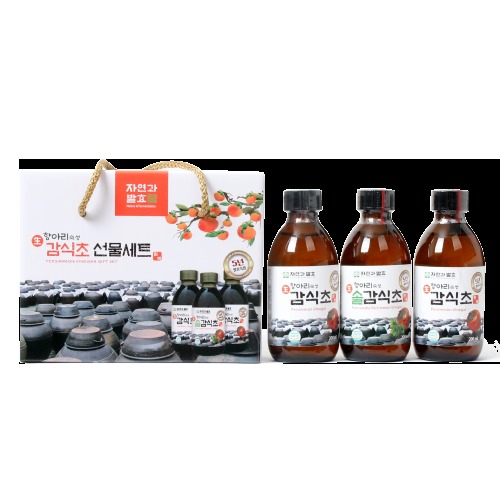 Product Description
Products Description
Fermented vinegar beverages produced using local permission vinegar & various fruit concentrates are fermented & matured using only 100% local sweet permissions grown in Jinyeong, Gimhae,Gyeongnam, with acetic and organic acids.
The entire process from the receipt of raw materials to the delivery of finished products is carried out under HACCP management. It has been aged for more than 5 years with time and sincerity.
Product Specification
Fresh Persimmon Vinegar 180ml x3 (5 Years Old)
Product Features
Natural Fruit Fermented has been developing and selling three types of fermented fruit vinegar, such as pineapple, peach and pomegranate, sequentially from 2020. Our fresh persimmon vinegar has enhanced its quality by significantly increasing the vinegar content(75%) compared to other products(35-40%), and erythritol, a sweet tooth good for teeth, is used. Anyone can enjoy it delicious and healthy if you dilute it with milk and drink it. except for the fruit concentrate, no heat is applied from all raw materials to the finished product, so it is an unheated fresh vinegar that retains its taste, flavour, and active ingredients. Fresh persimmon vinegar from Nature & Fermentation is a new concept of vinegar drink as 'healthy drinking vinegar' that breaks away from the stereotype of seasoning vinegar.
Product Use
Diluted with water or milk to drink.
Enter Buying Requirement Details
Other Products in 'Agriculture & Food' category