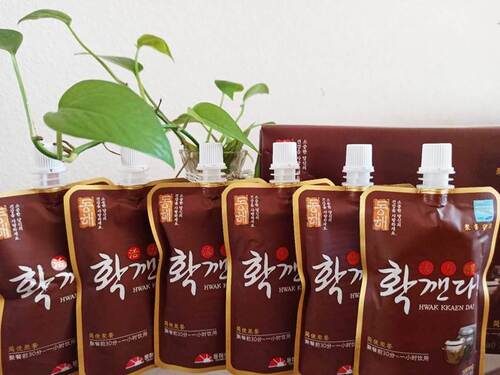 Product Description
Product Description
Product Features
- Main materials of Hwak kkaen da consists banaba leaf, balsam, moringa leaf, green tea from Philippine organic farming and sub material consists condensed fluid of ginseng steamed red, cinnamon, dried orange peel, etc and produce without any chemical additives.

- Hwak kkaen da different from other hangover solution products which produced by several condensed fluid diluted.

- Factory produce only for hangover solution drink in order to raise specialty of products.
Product Usage
1. Ferment tea for hangover prevention

- Producing tea by ferment process and it may boost hangover recovery effects and protect liver function.

2. Quick recovery from the fatigue

- Hangover prevention and escapes from hangover pain Enhance blood circulation, Recovery liver function, Maintain physical condition

3. Suggested drinking manner

- 30 minutes before drink alcohol and after finish drink dr
- Next day morning when feels hangover or pain
- Whenever feels tired or fatigue

4. New concept hangover solution for boosting liver function

- Escape from hangover pain by promoting decomposition of acetaldehyde
- Hwak kkaen da shows more hangover recovery effect for high grade of alcoholic drinks such as whiskey or vodka.
Company Profile
With the spread of the drinking culture and improvement of living
standards, the population of those who indulge in alcohol has continued to rise. At the same time, the hangover recovery market has
considerably expanded. Even though a variety of products have been released, many consumers have not been very satisfied with their effects. DONGHAEBIO has developed a specialized fermentation system to produce the best hangover recovery products and finally released Hwakkkaenda after continued R&D. Its remarkable effects were certified by the government body in April 2017. To improve our specialty, weve been dedicated to producing hangover solution drinks only.
Enter Buying Requirement Details
Other Products in 'Health And Beauty Equipment' category