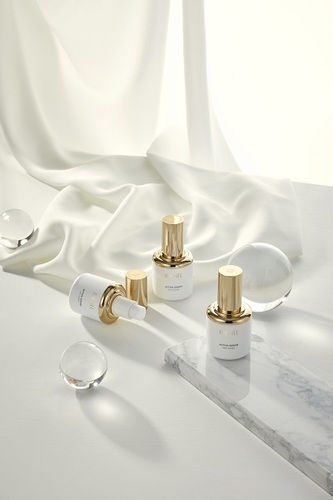 IDENEL Active Serum Price And Quantity
Product Description
Product Features
High functional Serum with Idenel's skin care technology!
It is high-performance serum that instantly brightens dry and dull skin by improving blood circulation and activates turnover cycles.
Contains raphitox which is over 8 million microneedles in 1 gram, causing micro-irritation to the skin. This activates the skin's turnover cycle, softening the tone and texture of skin.
enhances skin self-renewal ability by intensively supplying anti-aging ingredients to aging skin with its own core technology.
It is convenient daily care serum for clear, shiny skin without blemishes. It opens the skin pathways through micro-stimulation and let key ingredients for anti-aging penetrate the skin.
Our Company
SR BIOTEK INC.
1. Researching the skin barrier
There are many products that works in the lab, however the high anti-aging effect in the laboratory does not guarantee in real life. Because experiments in test tubes presuppose a situation where there is no skin barrier. After all, for the laboratory data to function properly in real life, the active ingredient must be able to reach beyond the skin barrier. However, the skin barrier is solid lamellar structure in which keratinocytes and lipids are stacked on top of each other and gives hard time for active ingredient to pass through. In fact, according to a paper called 500 Dalton's law, most active ingredients in cosmetics do not pass through the skin barrier.
2. Brand new Ingredient Development
The founder of IDENEL, Prof. Byung-ho Song has studied chemistry and biology for 30 years. His concentration of research has been the ability to deliver active ingredients to deeper through the skin barrier. Our perception of the existing ingredient sor technologies is that there are limitations, for this reason we have begun developing new ingredients. We brought in fellow professors and dermatologists as advisors to verify the effectiveness and safety of the new ingredient. The research jounrney began in a university's lab in 2005, and that journey has brought an incredible result by the raw ingredients of IDENEL's hero, the two patented technologies: Altum technology and Raphitox
3. Cosmetic meets Aesthetic
The pursuit of perfection did not stop with new ingredients. We have developed a formulation that maximizes the strength of new ingredients and a treatment method by collaborating with 30 years experienced aestheticians and formulators. Eventually, cosmetic meets aesthetic. The PEPTAXEL procedure was lauched in 2021 for professional and homecare to maximize the potential of IDENEL's latest technology, Altum technology
Enter Buying Requirement Details
Other Products in 'Health And Beauty Equipment' category