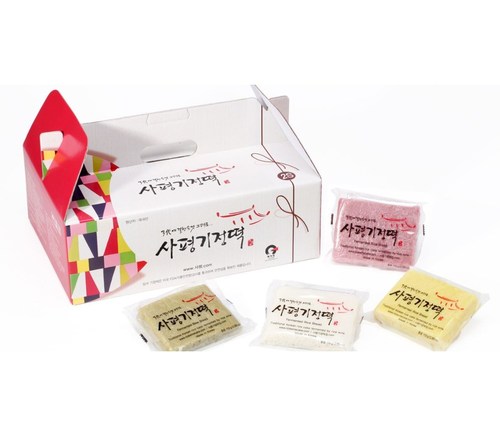 Product Description
Product Description
It contains the natural colors and tastes of mulberry leaves, turmerics, and purple sweet potatoes.
The effectes of murberry leaves : Calcium, iron, blood cleaning, glycaemic control, antioxidation, fiber, alanine, aspartic acid, detox, etc.
The effects of turmerics : Breaking down fat by accelerating the secretion of bile, activating AMPK enzyme, inducing abnormal cell death, accelerating digestion by stomach blood flow increase, detoxing.
The effects of Purple sweet potatoes : Anthocyanin antioxidant, blood pressure control, dietary fiber, glycaemic control, hangover relief, detoxification, promote digestion.
Product Specification
Weight :1.3kg / 2.7kg / 3.5kg(+5%)
Size per piece :about 8cm - 10cm
Raw materials and content :Rice(Korea) 83.4%, Sugar 14.2%, Salt(Korea) 1.3%, Alcohol, east 1.1%, Raisins, sesame seeds, Mulberry leaves, Turmerics
Purple sweet potatoes powder 1.2% each
Packing :Individual package
Manufacturer :Sapyeong Ricewine Cake co.,ltd
The country of origin :Jeollanamdo Hwasun Sapyeong
Enter Buying Requirement Details
Other Products in 'Agriculture & Food' category