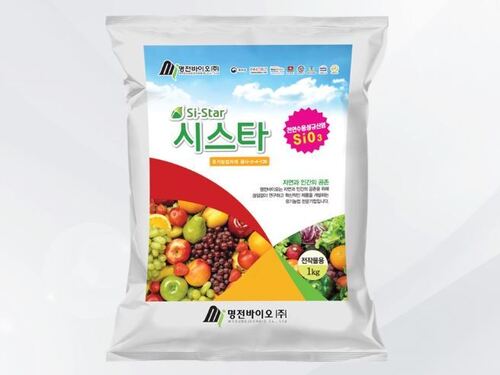 Si-Star Granule Price And Quantity
Product Description
Product Description
-Neutralization of acidic soil: Si-Star neutralizes acidic soil into neutral soil, which plants and crops like.
-Acceleration of absorption of phosphatic fertilizer: Water-soluble silicate decomposes phosphate, which Is not easily absorbed into the soil, and helps absorption into crops.
-Absorption control of nitrogen fertilizer: Water-soluble silicate helps the product quality crops by absorbing and keeping unnecessary nitrogen fertilizer.
-Purification of soil: Water-soluble silicate inhibits the growth and propagation of harmful microorganisms in the soil with sterilization and purification ability.
Si-Star helps absorb water and nutrients by supporting root development, increasing fine roots.
Specification
sodium silicate 80 percent, quartz 20 percent
1kg
Product Use
It can be used for soil fertilization of all crops. Si-Star Granule, which improves acidic soil, improves soil fertility, promotes root development, reduces salt stress, reduces injury by successive cropping.
Company Profile
Myoungjeonbio is the eco-farming expert which ceaselessly investigates and develops innovative products for the co-existence of nature and people. Myoungjeonbio produces agricultural silicate (fertilizer) using water-soluble silicate (SiO3) as the main ingredient, which Myoungjeonbio developed for the first time in Korea and the fourth time in the world and acquired the patent rights. Myoungjeonbio has been exporting to various global markets, including Cote dIvoire, China, and Vietnam, as well as
selling products domestically.
Website:
http://www.mjbio.co.kr
Enter Buying Requirement Details
Other Products in 'Agriculture & Food' category