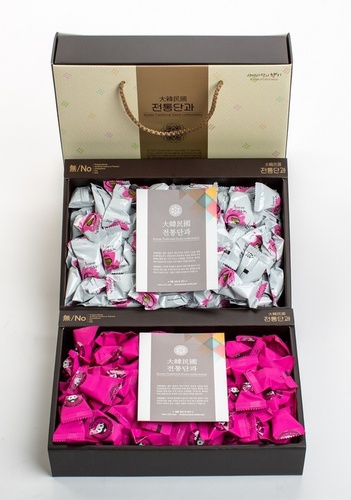 Product Description
Product Description
Donkwa, the traditional treat of Korea, is the naive brand of traditional health food representing Korea. It was developed by a Korean college of pharmacy start up company competing with strategic ideas against disease. It applies the advanced bioengineering technologies developed at the Innovative Tumor Therapeutics Research Institute in the College of Pharmacy, the Department of Food Science and Technology in Chungbuk National University, and the Immuno biochemistry Research Institute in the Department of Cell Biology, Konkuk University, to traditional food. R&D results scientifically prove the effects of plant extracts against the human papillomavirus. Donkwa is a health care food manufactured to be kept at room temperature for over 2 years without any artificial chemical additives. We are concerned about safety, so sugar, fats, pigments, animal proteins, surfactants, food preservatives, and fungicidal agents are not used. Only the traditional method, continued for a thousand years in Korea, is used for making Donkwa.
Specification
A Paper Box, Net 720g, 120 ea
Product Features
The development of health food by adding natural super anti oxidant substances and restorative herb medicines.

1) Natural candy inheriting a thousand years history and manufacturing tradition.

2) Functional traditional rice confectionery Donkwa made from a material extracted from the trunk of the Cudrania tree of origin in Korea.

3) A study by the college of pharmacy revealed that CTS extract inhibits cervical cancer.

4) It also showed inhibition on various existing cancer cells (uterine cancer, stomach cancer, colon cancer, liver cancer, lung cancer, skin cancer, etc.)

5) CTS is a natural raw material approved for use by KFDA and is safe for humans.
Enter Buying Requirement Details
Other Products in 'Others' category