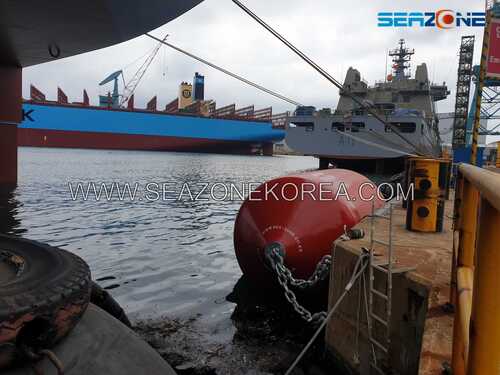 Product Description
Product Description

-

Fender Skin


The elastomer used in the fender skin is polyurea. The skin is reinforced by filament winding wrap in a helical and hoop direction, which is controlled by an automatic winding system with load cell sensors at each filament. Our four-axis filament winding system, also used to build spacecraft fuel tanks, takes control and positions each filament for maximum strength and even finish. The polyurea shows far superior physical properties to those of the rubber. The durable and resilient polyurea skin also offers the best resistance to salt water and ultraviolet light.

- Various colors
Standard color shall be made of Dark red, gray and black. But customers can request yellow etc.
Product Features
500 phi X 1,000L 4,500 phi X 10,500L
Product Application
- Bulk cargo
- RoRo and ferries
- General cargo
- Shipyard
- Cruise ships
- Navy ships
- Oil and gas tankers
- Container vessels
- Ship to ship
Company Profile
SEAZONE
Since our incorporation in 1997, we have been committed to developing and supplying foam-filled fender systems to allow ships to safely dock.
As ships grow in size and dock more frequently, a safe docking system becomes increasingly critical. However, conventional fender systems still contain legacy vulnerabilities without significant improvements to reduce damage.
Hence, we are committed to supplying products of much better quality and more durability than conventional fender systems in support of marine safety.
Preparing for the future to come, SEAZONE will always try to serve the best interests of customers by changing and innovation ever more. We will do our utmost to deliver only the best products, leveraging our quality and service know-how. Our mission will be to satisfy the needs of customers and provide quality services, and we will place top priority on delivering value to customers.
Website :
http://www.seazonekorea.com
Remarks
Price : Negotiable, Variable according to quantity and specification
Enter Buying Requirement Details
Other Products in 'Auto' category