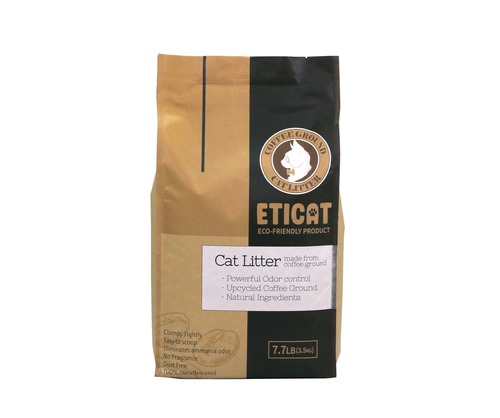 Trade Information
Asia_Incheon port, United States & Europe_Busan port

Telegraphic Transfer (T/T)

30 Days

1 pallet = 40 box, 1 box = 5 pieces

KCL 99.5% Ammonia removal
Product Description
Product Description

Coffee grounds contains nitrogen that could improve carbon's ability to absorb bad-odor causing substances. Not only that, coffee ground has large volume, making it absorbs ammonia easily. ETICAT contains of coffee grounds, blend it with other natural ingredients such as seaweed extract and corn-starch to increase clumping.

In addition, we also have secured our technology for this product by having korean patent and applied for PCT.

Product Features

A premium cat litter made from coffee grounds specialized in odor control.
Ammonia substances are absorbed into large pores of coffee grounds, removing the unpleasant smell of urine and feces directly. ETICAT has proved 99.5% its deodoration efficiency from KCL(Korean Conformity Laboratories).
ETICAT formulated only with natural materials, contained of coffee grounds, seaweed extract, and corn-starch. ETICAT has excellent absorbancy which could give quick clumps for easier cleaning.
Coffee grounds used for ETICAT are 100% decaffeinated coffee grounds.
Alfred Inc.

Alfred is an eco-friendly company that pursues both social and economic values. Alfred wants to provide a customer-oriented service to create a better companionship between cats and its owner. We did preliminary research to achieve our goal that is to add value to something that supposed to be thrown away by re-using waste. 11.5 million tons of coffee grounds are thrown away annually. Alfred up cycles this discarded coffee grounds to produce a premium cat litter.



Enter Buying Requirement Details
Other Products in 'Home Products' category