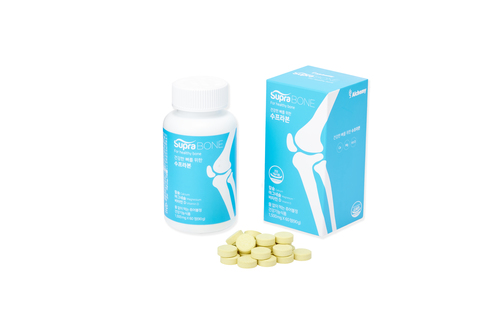 Product Description
Product Description
Supra BONE is a functional healthy food for healthy bone consisting of calcium, magnesium, and vitamin D. Specially "Kaempferial Galanga Extract Powder" is selected to activate osteogenesis. It is the best combination designed as a daily supplement for bone health based on scientific researches.
Product Features
The best daily supplement to maintain healthy bone and to prevent bone related diseases.
It is designed as a chewable type to take easily, specially for kids and elderly people.
Product Specification
1BOX (1,500mg X 60tablet)
Daily Intake : 2 Tablet (3,000mg)
Appx. Amount : Energy - 10Kcal, Carbohydrate 2g(1%),
Protein 0g(0%), Fat 0g(0%), Natrium 0g(0%), Calcium 230mg(33%),
Magnesium - 120mg(38%), Vitamin D - 4microgram(40%)
*The figure in ( ) is the ratio to the daily nutritional standard.
Product Usage
Recommend it to people like this.
Growing child who is apt to lack calcium.
Pregnant woman with high calcium and vitamin D requirements.
Older people with lower calcium absorption.
Modern people who are apt to lack nutrients.
Anyone who needs to reduce the risk of osteoporosis.
Menopause women and middle and senior citizens who need bone health care
Our Company
As a health care provider, the goal of our organization is to facilitate people to lead a healthier life style through functional
foods. We aim to provide high quality and modernized products for better customer satisfaction and long term relationships.
To accomplish our mission we are constantly involved in research and developing new technologies with improved efficiency.
With this eye vision we also look forward to serve people by offering innovative product designs which are capable to muddle through the contemporary world.
Enter Buying Requirement Details
Other Products in 'Health And Beauty Equipment' category