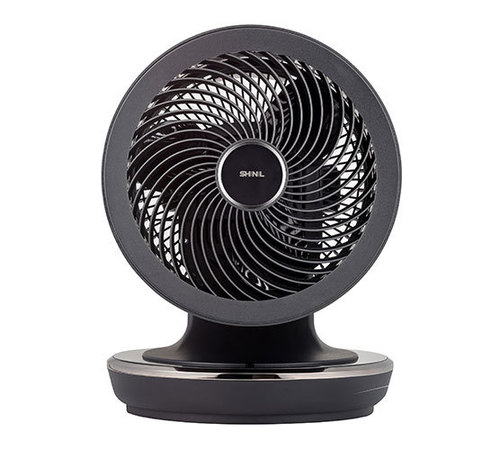 Product Specifications
Black

Shinil Dc Motor Air Circulator
Product Description
Product Description
Shinil circulator is a jet engine based fan design based on aeromechanics and a scientific grille design that draws air in and delivers a powerful straight-ahead whirlwind that circulates the air quickly.
Specification
Power consumption : 33W
Size : 300*300*780
Wind speed : 12levels
Weight : about 4.5kg
Number of wings : 3wings
Timer : 8hr
Diameter: 23cm/3wings
Operating Method : Touch, Remote Control BLDC Motor
Product Features
More powerful Shinil`s circulator with DC motor
Low noise, high power, powerful motor. Quiet but produces cooler wind to 16 meters and helps air circulation quickly.
Lowered power consumption
DC motors with low power consumption of 7W to 34W were used.
In addition, even though it is lower power, it is highly efficient and has the effect of saving electricity costs. (based on ultra micro breeze and turbo wind)
Air circulation effect
Cool air is gone up and warm air is rotated down to make room temperature pleasant, when used with air conditioner, coolness lasts long without blind spot of wind, increase cooling Efficiency.
Fully detachable net in the front and rear of the circulator!
The front and back of the wing are completely seperated, making it easier to clean the product completely, making it easier to manage.
12-levels fine wind speed control
You can adjust the wind speed of 12 levels (ultra micro breeze, normal wind : 2 to 11 levels, turbo wind) to allow you to adjust to the desired strength and use depending on the time and place.
8 hours timer
With 1,2,4, and 8 hours timer, you can freely set the desired time for safe and convenient use.
More subdivided auto-rotation of up-down and left-right
Up and down 85, left and right sides 30, 60, and 90(subdivided setting) rotates to ensure constant air circulation throughout the indoor and feel the 3D stereoscopic wind.
Detachable remote control
The remote control, which can be easily operated from a distance, can be attached to the guard ring like a magnet to minimize loss.
Intuitive display
Touch-type operation makes it easy for anyone, male and female, to use the product and provides a clean and stylish design without buttons.
Stylish and Sturdy Design
Designed with a reliable, stylish design, it creates a luxurious space atmosphere.
Wind Distance : over 16M(SGS certified)
A powerful turbo-motor creates a strong sind of more than 16M, helping to circulate the air quickly, creating a refreshing breeze.
Company Profile
Shinil Industrial Co., Ltd., with 60 years of history, produces and sells a wide range of products such as fans, heating appliances, and household kitchen appliances. Our major product, fans, has won the Korean Customer Satisfaction Index KS-QEI during past 12 consecutive years based on its outstanding technology and quality. Besides we have also launched new models including fan heater, Eco heater, Moo Moo humidifier, Rollingston Wireless Handheld Electric Mop, blender, vacuum cleaner and microwave oven. These newly launched products are leading the home appliance market of heating for winter not only for summer.
Enter Buying Requirement Details
Other Products in 'Home Products' category