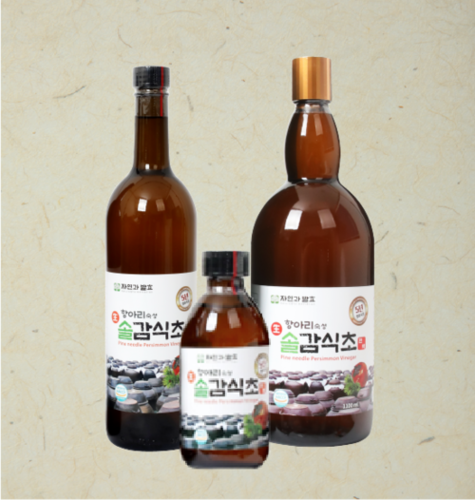 Product Description
Products Description

Persimmon vinegar is fermented and aged using only 100% local sweet persimmons grown in the Jinyeong area, Gimhae, Gyeongnam. The entire process from the receipt of raw materials to the delivery of finished products is carried out under HACCP management.

Product Specification

Pine needle persimmon Vinegar 750ml (5 Years Old)

Product Features

In addition to sweet persimmon, natural and fermented pine needle persimmon vinegar is produced by adding pine needles, jujubes, and local green tea. It is an unheated fresh vinegar that does not apply any heat from raw materials to finished products so that the unique taste, flavor, and active ingredients of persimmon vinegar are preserved. In addition, from raw materials to finished products, we produce vinegar using a natural traditional fermentation method that does not add any chemical materials.

Product Use

It can be used in cooking or diluted with water or milk to drink.



Enter Buying Requirement Details
Other Products in 'Agriculture & Food' category