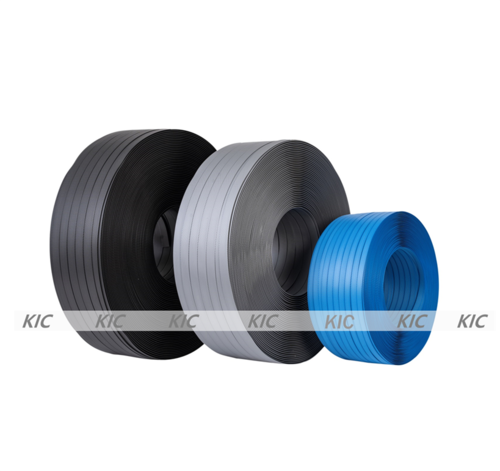 PET Strapping Price And Quantity
Product Description
Product Specifications-
No rust, UV resistance, and even in hot humid weather,KIC PET heavy duty strap is replacing the steel strap in safety requirements.
KIC PET strap has been approved for cargo transportation by the Association of American Railroad(AAR certified).
A Strict quality control test for raw material is executed.
Not only standard HD strap but also jumbo roll and many industry custom made roll are welcome.
Polyester Strapping
Width (mm)

Thickness (mm)

Length M

Color

Finish

Core Size (mm)

Breaking Strength (Kg)

Elongation (%)

Dimension Height xOD

(USD/Roll)

15

0.7

1,479

Dark Green

Smooth

406x152

425

10-14

160 x580

32.41

1,545

Embossed

406x152

385

10-14

160x580

32.41

15.5

0.88

1,117

Dark Green

Smooth

406x152

575

12-16

160x580

32.41

1,156

Embossed

406x152

525

12-16

160x580

32.41

15.62

0.89

1,117

Dark Green

Smooth

406x152

600

12-16

160x580

32.41

1,156

Embossed

406x152

535

12-16

160x580

32.41

15.62

1.02

976

Dark Green

Smooth

406x152

670

12-16

160x580

32.41

1,005

Embossed

406x152

610

12-16

160x580

32.41

15.9

0.9

1,220

Dark Green

Smooth

406x152

880

12-16

160x580

32.41

Embossed

406x152

825

12-16

160x580

32.41

19

1.1

743

Dark Green

Smooth

406x152

880

14-18

160x580

32.41

Black

Embossed

406x152

880

14-18

160x580

32.41

19.05

1.02

800

Dark Green

Smooth

406x152

800

14-18

160x580

32.41

Embossed

406x152

740

14-18

160x580

32.41
Enter Buying Requirement Details
Other Products in 'Packing' category