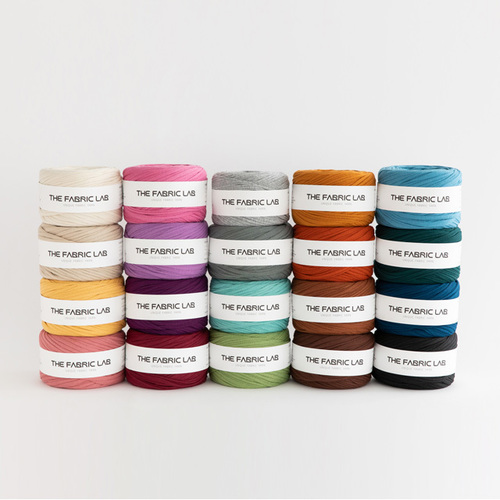 Product Description
Product Description
[Premium Fabric Yarn]
THE FABRIC LAB's Premium Fabric Yarn is manufactured directly in Korea in all processes including the fabric knitting. This yarn is not manufactured by recycled cotton, but a mixture of 60% cotton and 40% natural modal for fabric yarn manufacturing. Modal Cotton Yarn is a 100% natural material from the nature, and it is characterized by tension and softness created by utilizing the softness of the modal and the softness of the cotton. The Fabric Lab's modal fiber is produced by a technology from an eco-friendly company. It is a natural ingredient extracted from Austrian beech trees, and it is highly breathable and moisturizing. At the same time, it is a high-quality fiber with a soft touch.

[Unique Color]
Unique color of fabric yarn from THE FABRIC LAB is the biggest strength of The Fabric Lab. Using 28 trendy and unique colors developed by THE FABRIC LAB Design Lab, you can complete a variety of works with your own sentiments.

[Wide and thick yarn]
With a wide range of yarn products, bulky works can be completed in a relatively short time. Various fashion and interior props can be produced.
* Yarn knitting width: 3cm / Weight: about 300g (0.66lb) / Length: About 100YD / Needle size: 8mm to 12mm

[Quality and Hazardous Substances Test passed]
Manufactured by using natural materials from the nature, fabric yarn of The FABRIC Lab is a safe material that can be used for props, children and pets that directly touch the skin.

[Laundry management]
To keep The Fabric Lab's products at their best, hand washing is recommended for lukewarm water. Since it's a dyed fabric, bleach shall not be used. In case that it is dry, please lay it in the shade and dry it.
Company Profile
THE FABRIC LAB
THE FABRIC LAB Design Laboratory continues to research and develop unique colors and quality materials for completing a variety of works with unique/trendy/friendly keywords, and creates a culture of free ideas for researchers in the design laboratory, creating a more trendy design and unique color.
For beginners who start knitting for the first time, they provide free video content of artists at the Design Research Institute
to help anyone learn knitting easily and happily. With unique color, trendy design, and fabric materials from the FABRIC LAB, it becomes easier and faster to complete the work.
Enter Buying Requirement Details
Other Products in 'Gift' category