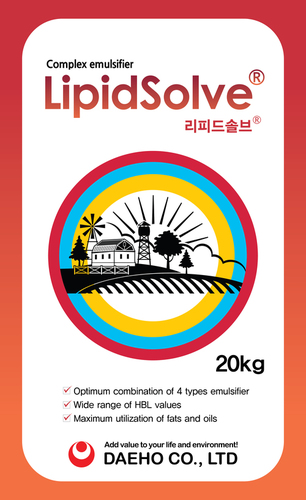 Korean Feed additive Lipid Solve with Active ingredients Glycerin fatty acid ester Price And Quantity
Product Description
Product Features

- Hydrophilic, hydrophobic emulsifiers (four emulsifiers)
- As a complex ingredient, it emulsifies oil of all kinds.
- Increased fat digestion efficiency.

Product Specification
Species : Swine, Poultry, Cow
Shape : Powder
Packing unit : 20kg
Ingredient/content
-Glycerine fatty acid ester
Product Efficacy
1) Improve production performance of animals
2) Improve absorption of fat-soluble vitamin and drug
3) Promote carbohydrate absorption and availability
4) Promote protein and oil digestion and absorption
Product Usage
Mix appropriate amount in feed properly.

*Please consult with Daeho about appropriate amount.
Our Company
Affluent life and Add value to your life and Environment With Daeho

We will do our best to satisfy you with new and helpful information Daeho founded at 1986 under company philosophy Affluent life and green environment" After foundation, we have only focused in feed additives and animal medicines composed of natural materials such as microorganisms, enzymes, photobiotic and organic acid without any assistance of chemical materials.
Currently, daeho's manufacturing facilities and R&D department is now located in Hwaseong city, Gyeonggi province and the other functional parts are in Seoul branch office.
Enter Buying Requirement Details
Other Products in 'Agriculture & Food' category