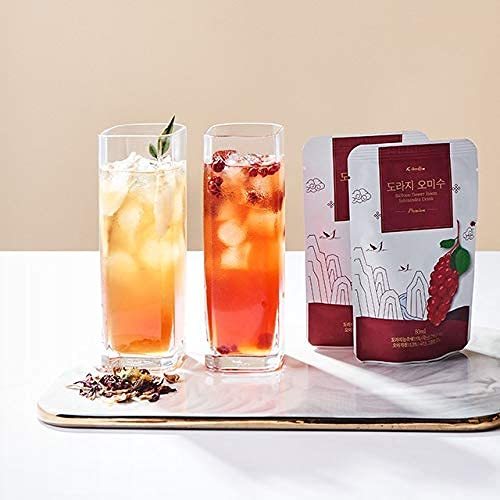 K-doraji Omisoo (50packs/box) Price And Quantity
Product Description
Product Feature

K-doraji Omija Drink Dark brown juice that contains doraji bellflower root concentrate, Omija Berry syrup, oligosaccharides, and fresh omija extract. Recommended for cooling your body heat Premium Quality Mature Harvested, Fresh Taste and Hygiene and Safe Process to minimize heat damage. Caffeine free and artificial chemicals or sugar free

Good Fruity Taste and Thirst Quenching Mild sweetness comes from healthy sugar fructo-oligosaccharides (FOS), Natural fruity berry taste is well balanced with sweetness and bitterness of doraji bellflower root.

Drink or Flavored Water Served Ready-to-Drink in a handy individual pack and Cold Tastes Better You may try in a < 10 fl.oz as a cold flavored water.

Why Bellflower root
A food for thought over new root tea. Doraji, commonly known as a bellflower root or platycodon, has been a herbal medicine to relieve cough, sore throat or respiratory health like a ginger or lemon tea and internal inflammatory problems. There contains 1% of K-doraji Yakchung in each pouch for your start

Type : Ready to Drink

80ml pack of Korean Bellflower Root, Sweet Taste and Pleasant, Good for Cough and Throat Comfort
K-doraji Omija Berry Drink is good fruity juice that contains pure balloon flower root concentrates, omija syrup, oligosaccharides, and fresh omija extract.

Enter Buying Requirement Details
Other Products in 'Health And Beauty Equipment' category