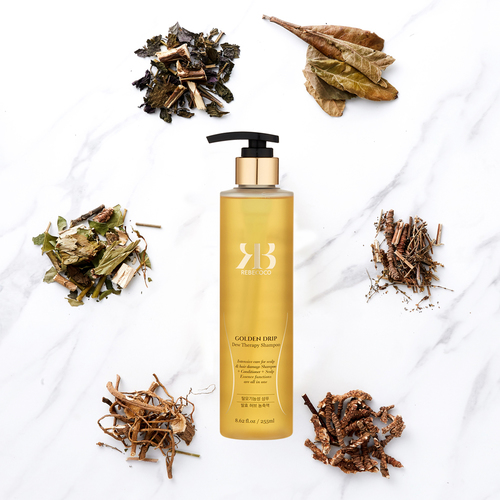 Golden Drip Dew Therapy Shampoo(Herbal Scalp Skin care hair loss) Price And Quantity
Product Description
REBECOCO
REBECOCO is a
natural skin and hair care

cosmetic company that makes a premium product by gaining the

high-enriched extract

with the

dew extract method

, the innovative patent one which extracts the function of plant raw material with efficiency.
We made it by fermenting & distilling the carefully selected medical herbs such as Korean Dendropanax called ginseng tree and 12 oriental herbs medicines to enhance active ingredients and maximize absorption.
We didnt use alcohol when gaining the extract from the raw material in order not to stimulate the skin.
It

enables scalp and skin to calm, recover, eliminate infection

and

detoxify

skin and scalp. And also it improves the function of protecting the moisture, elasticity, and gloss for the contemporaries skin which has been sensitive to various environmental factors, keeping it healthy & glowing.

Since established in 2016, we have had excellent indicators of rapid growth, high repurchase, and low claim rates in the premium trouble care area.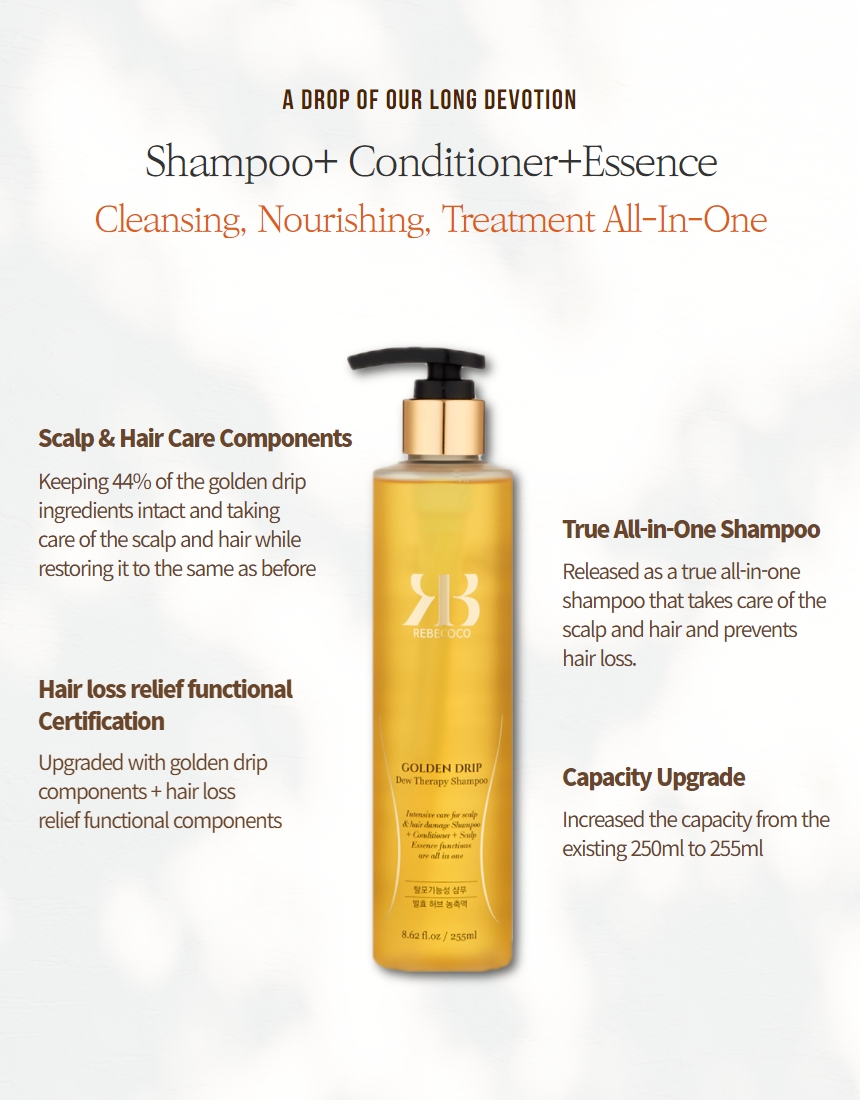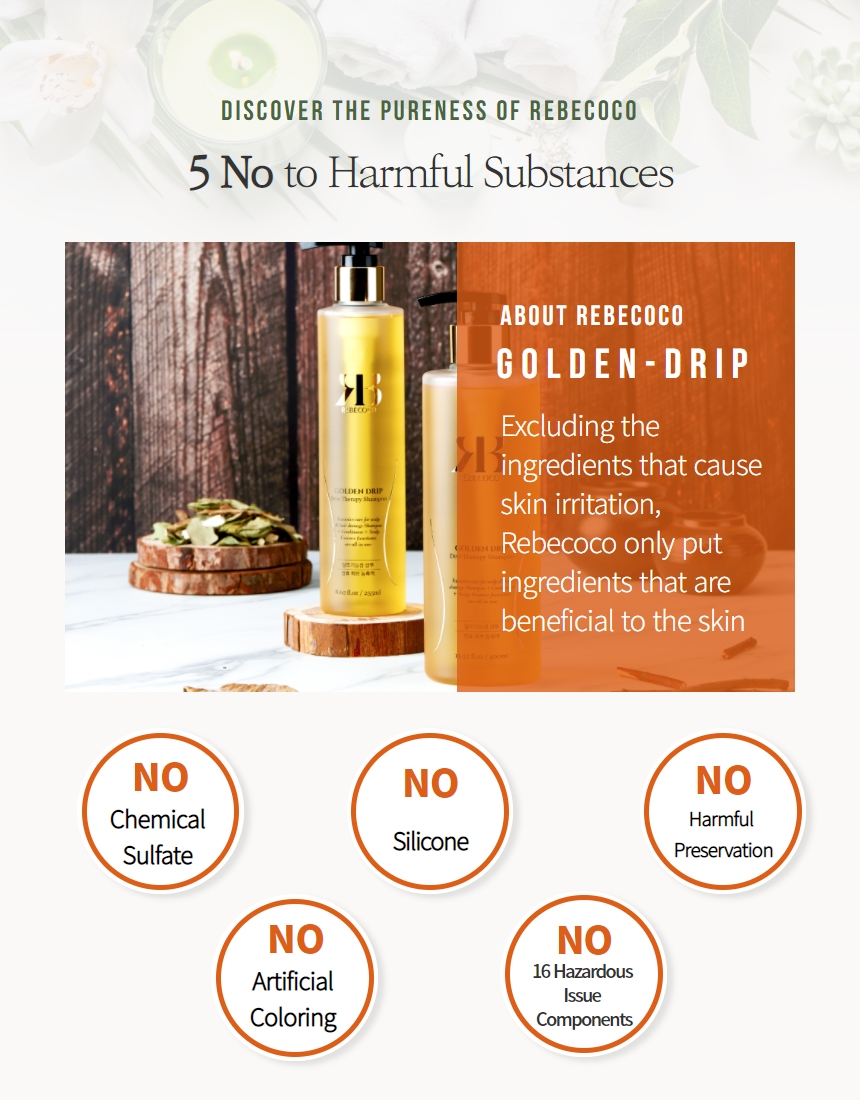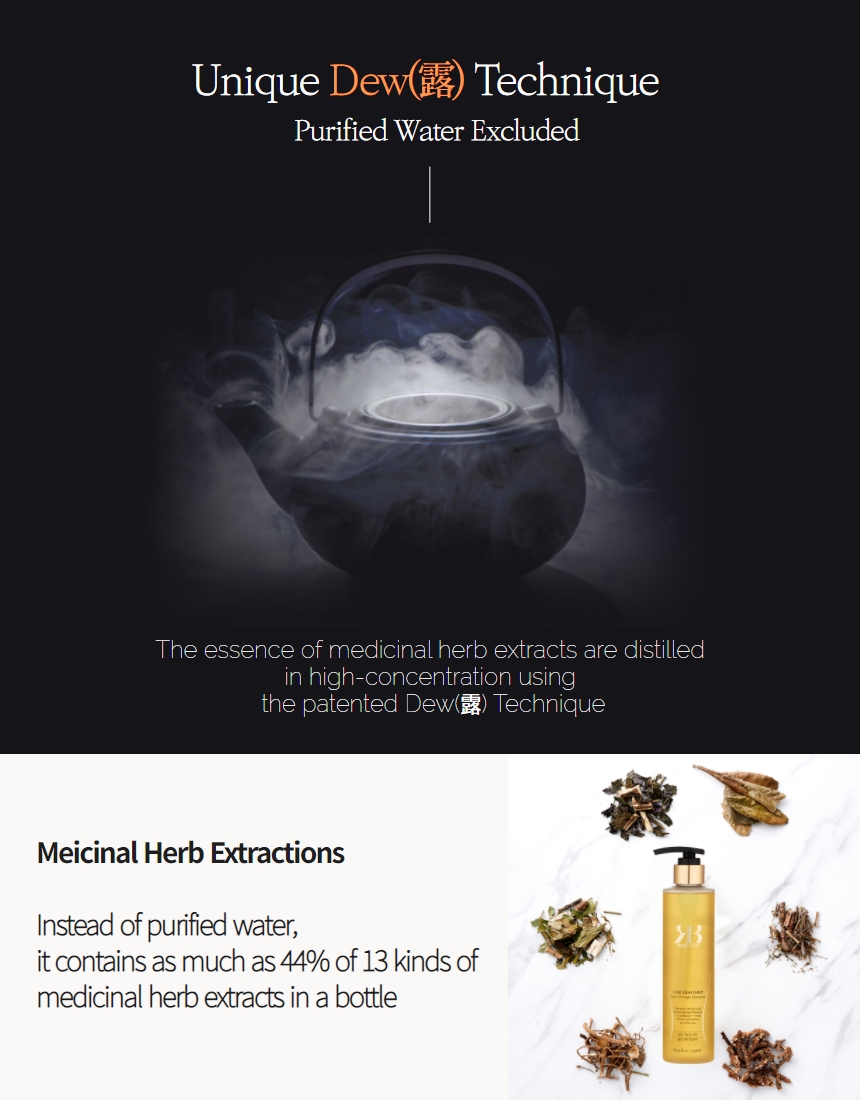 Golden Drip Dew Therapy Shampoo
Intensive Scalp Care Shampoo Made of High Enriched Medicinal Herbal Extracts Golden Drip Shampoo is an all-in-one shampoo with hair treatment and essence. It shows excellent functionality in scalp trouble intensive care as well as hair loss prevention.
Instead of purified water, it contains as much as
44% of 13 kinds of medical herbs extracts

in a bottle, which is made based on fermentation and distillation methods to enhance active ingredients and maximize absorption into the scalp.
To expand target markets, we also change the strong scent and dark color due to fermented herbal ingredients to the attractive sabbatical aroma and transparent colors and improve the roughness with a soft and natural texture. It is superior in controlling water-oil balance, which satisfies both oily and dry skin.
Our shampoo is
suitable for everyone

from baby, pregnant, to elderly. Especially, it is popular with those suffering from seborrheic dermatitis, hair damage, eczema, and dandruff. This

natural medicinal herb extraction

enables the skin to calm, recover, eliminate infection, and detoxify the scalp. It also can give vitality to damaged hair and keeps it shiny and healthy.
Enter Buying Requirement Details
Other Products in 'Health And Beauty Equipment' category